Product Description
Based on the designer's original artwork, this printed stretch silk knee-length dress has a well-traveled feel with its Asian-inspired collar and Indian embroidery. The bodice features figure flattering seams, while the waistband draws the eye to the narrowest part of your frame before falling to the paneled skirt with contrasting piping. The matching trim at waist and cuffs is hand-picked by the designer and may vary. Finished with a concealed zipper at back.
98% Silk/ 2% Stretch
Dry clean only
Model wears size S (2-4).
No two signature prints are alike.
---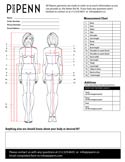 If you have a specific measurement request, please fill out the online measurement form or download it here. Please email us if you have any questions.
fill out online measurement form
If you prefer to fill out the measurement form by hand and email it back to us you can download it here.