Product Description
This digitally printed tunic is inspired by the trees in London's Hyde Park. Bell sleeves, split neckline, and a dramatic asymmetric hem artfully combine for a modern, easy style, while the detachable panel makes a sweeping statement with a tonal belt and unique buckle.
Dry clean only
Model wears size S (2-4). Item is made to measure. Call to inquire for your perfect fit.
No two signature prints are alike.
Brushed stretch
---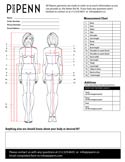 If you have a specific measurement request, please fill out the online measurement form or download it here. Please email us if you have any questions.
fill out online measurement form
If you prefer to fill out the measurement form by hand and email it back to us you can download it here.