Product Description
Based on the designer's original artwork, this top combines modern tailoring with feminine details. Pretty ruched shoulders and a striking collar take this printed floral button down to the next level. Finished with unique buttons hand-picked by the designer.
98% Silk/ 2% Stretch
Dry clean only
Model wears size S (2-4).
No two signature prints are alike.
---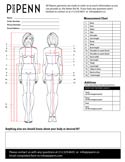 If you have a specific measurement request, please fill out the online measurement form or download it here. Please email us if you have any questions.
fill out online measurement form
If you prefer to fill out the measurement form by hand and email it back to us you can download it here.