Product Description
A laid back, artsy take on a tailored silhouette, this three-piece suit includes a cropped double breasted jacket with forearm baring sleeves and asymmetrical lapel, wide-leg trousers, and a coordinating button-up vest. Each piece is finished with unique buttons.
Dry clean only
Model wears size S (2-4). Item is made to measure. Call to inquire for your perfect fit.
No two signature prints are alike.
100% polyester charmeuse
---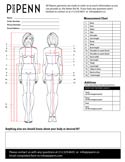 If you have a specific measurement request, please fill out the online measurement form or download it here. Please email us if you have any questions.
fill out online measurement form
If you prefer to fill out the measurement form by hand and email it back to us you can download it here.