Product Description
Made from soft-to-the-touch silk and printed with abstract shapes digitally manipulated from the designer's original art, this strapless jumpsuit is both modern and feminine with its seamed bodice and wide legs. Finished with an embroidered trim at bodice and waist, hand-picked personally by the designer, ensure no two pieces are the same. Includes concealed zip at the back.
96% silk/ 4% stretch
Dry clean only
Model wears size S (2-4).
No two signature prints are alike.
---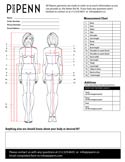 If you have a specific measurement request, please fill out the online measurement form or download it here. Please email us if you have any questions.
fill out online measurement form
If you prefer to fill out the measurement form by hand and email it back to us you can download it here.