Product Description
Digitally printed with abstract art and accented with embroidered trim picked by the designer herself, this silk tunic is as playful as it is chic. The bell sleeves, split neckline with ties, and dramatic asymmetric hem artfully combine for a wow factor, while green piping and trim at cuff and hem lend a global flair.
98% Silk/ 2% Stretch
Dry clean only
Model wears size S (2-4).
No two signature prints are alike.
---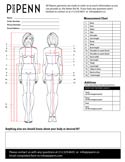 If you have a specific measurement request, please fill out the online measurement form or download it here. Please email us if you have any questions.
fill out online measurement form
If you prefer to fill out the measurement form by hand and email it back to us you can download it here.