Product Description
Bold and bright, this printed maxi skirt exudes free-spirited elegance. Designed with a hand-picked custom-embroidered trim at the waist to show off your narrowest point and detailed with ruffled tiers through the hem.
98% Silk/ 2% Stretch
Dry clean only
Model wears size S (2-4).
No two signature prints are alike.
---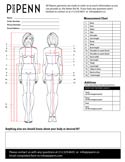 If you have a specific measurement request, please fill out the online measurement form or download it here. Please email us if you have any questions.
fill out online measurement form
If you prefer to fill out the measurement form by hand and email it back to us you can download it here.