Product Description
Make an entrance in this floor-length paneled dress, printed with the designer's original art. A dramatic deep V neckline features red piping, while a high front slit adds the perfect amount of allure. Finished with short sleeves. white lining and concealed zipper at back.
100% Poly charmeuse
Dry clean only
Model wears size S (2-4).
No two signature prints are alike.
---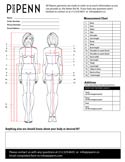 If you have a specific measurement request, please fill out the online measurement form or download it here. Please email us if you have any questions.
fill out online measurement form
If you prefer to fill out the measurement form by hand and email it back to us you can download it here.