Product Description
This shoulder-baring halter neck top is made from a stretch silk and turns to reveal an open back with self tie. The slouchy collar is finished with gorgeous hand-picked embroidered trim and fastened with three oversized tonal buttons, chosen by the designer.
98% Silk/ 2% Stretch
Dry clean only
Model wears size S (2-4).
No two signature prints are alike.
---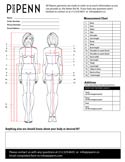 If you have a specific measurement request, please fill out the online measurement form or download it here. Please email us if you have any questions.
fill out online measurement form
If you prefer to fill out the measurement form by hand and email it back to us you can download it here.