Product Description
Made from soft, lightweight cotton, this one piece is a modern, feminine update on a utilitarian style with its wide legs, gold button front and seamed bodice. Front and back pockets add to the relaxed silhouette.
Dry clean/Hand wash
Model wears size S (2-4). Item is made to measure. Call to inquire for your perfect fit.
100% cotton denim
---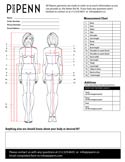 If you have a specific measurement request, please fill out the online measurement form or download it here. Please email us if you have any questions.
fill out online measurement form
If you prefer to fill out the measurement form by hand and email it back to us you can download it here.