Product Description
Wide leg trousers are topped with a coordinating slim-fitting vest in a soft feminine shade. Crafted with an elegant deep V-neck, the vest fastens with five unique tonal buttons ending with a peaked lapel and is finished with defined seams for a contoured shape. The matching mid-rise trousers with pressed creases down the center and side slip pockets complete the look.
Dry clean only
Model wears size S (2-4). Item is made to measure. Call to inquire for your perfect fit.
100% polyester
---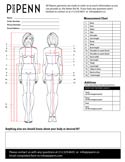 If you have a specific measurement request, please fill out the online measurement form or download it here. Please email us if you have any questions.
fill out online measurement form
If you prefer to fill out the measurement form by hand and email it back to us you can download it here.