Product Description
Bold and bright, this two-piece monochromatic suit is nod to mod with its cropped asymmetrical jacket and skirt. The jacket is defined by its asymmetrical lapel, ruched detailing at shoulders and back pleat. Cut with slanted panels on front that fall above the knee, the skirt features belt loops for the wide tonal belt and oversized black buckle. Finished with a concealed zip at side.
Dry clean only
Model wears size S (2-4). Item is made to measure. Call to inquire for your perfect fit.
97% polyester/3% lycra
---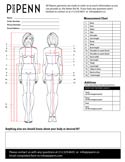 If you have a specific measurement request, please fill out the online measurement form or download it here. Please email us if you have any questions.
fill out online measurement form
If you prefer to fill out the measurement form by hand and email it back to us you can download it here.