Product Description
Based on the designer's original digital artwork, this two-piece outfit combines modern tailoring with 70's funk. The wide-leg trousers are shaped with a high-rise waist followed by a front pleat and accented with an oversized unique button at zip closure. The top, made from stretch fabric, is shaped with a bateau neckline and bell sleeves trimmed with coordinating print at cuffs.
Dry clean only
Model wears size S (2-4). Item is made to measure. Call to inquire for your perfect fit.
No two signature prints are alike.
100% polyester charmeuse/ Stretch tricot, 82% nylon/18% lycra
---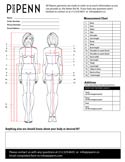 If you have a specific measurement request, please fill out the online measurement form or download it here. Please email us if you have any questions.
fill out online measurement form
If you prefer to fill out the measurement form by hand and email it back to us you can download it here.