Product Description
This cropped jacket is a chic coverup for day or evening functions. It's cut from black silk, has hand-picked embroidered trim at the cuffs, and has slightly roped shoulders for structure. The fine orange silk lining makes it perfect for layering.
100% Silk
Dry clean only
Model wears size S (2-4).
---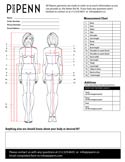 If you have a specific measurement request, please fill out the online measurement form or download it here. Please email us if you have any questions.
fill out online measurement form
If you prefer to fill out the measurement form by hand and email it back to us you can download it here.