Product Description
Crafted from silk in an abstract floral print, these super high-waisted trousers will easily take you from the boardroom to a night out. The seamed waist was designed for a flattering fit and falls to wide legs accented with pressed creases down the center, then finished with a button fly. Features a silk lining.
98% Silk/ 2% Stretch
Dry clean only
Model wears size S (2-4).
No two signature prints are alike.
---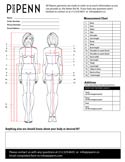 If you have a specific measurement request, please fill out the online measurement form or download it here. Please email us if you have any questions.
fill out online measurement form
If you prefer to fill out the measurement form by hand and email it back to us you can download it here.