Product Description
With flattering seams to accentuate your curves, this silk sleeveless dress in a signature digital print features a thigh-baring asymmetric, fluttery hem and concealed zip closure at back.
Dry clean only
Model wears size S (2-4). Item is made to measure. Call to inquire for your perfect fit.
No two signature prints are alike.
Silk 2% lyrca
---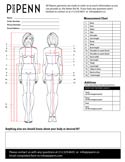 If you have a specific measurement request, please fill out the online measurement form or download it here. Please email us if you have any questions.
fill out online measurement form
If you prefer to fill out the measurement form by hand and email it back to us you can download it here.